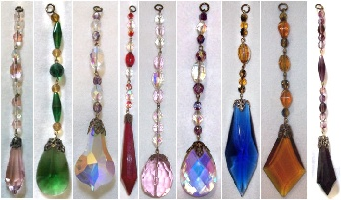 Beaded Lamp Pulls

Pictures

---

PINK PASSION

IS A LOVELY PULL 6 & 1/4 INCHES LONG. STARTING OUT WITH A FACETED PINK SPEAR SHAPED CRYSTAL AND FOLLOWED BY ALTERNATING AURORA BOREALIS CRYSTAL AND PINK FACETED BEADS. AVAILABLE IN AMBER, AMETHYST, BLUE, CRYSTAL, EMERALD, PINK AND RED.

PRICE $28.50 EACH

---

Pink Passion

EMERALD CITY

IS AN ELEGANT PULL 5 & 1/4 INCHES LONG. THIS PULL BEGINS WITH AN EMERALD OVAL FACETED CRYSTAL TEARDROP FOLLOWED BY AMBER ROUND FACETED AND EMERALD DOUBLE CONE CRYSTAL BEADS. AVAILABLE IN AMBER, AMETHYST, CRYSTAL, BLUE, EMERALD, PINK AND RED.

PRICE $28.50 EACH

Emerald City

---

FANCY SPLENDOR

IS A GORGEOUS PULL MEASURING 5 INCHES LONG. FIRST IS AN AURORA BOREALIS FACETED FANCY TEARDROP CRYSTAL FOLLOWED BY AURORA BOREALIS FACETED CRYSTAL AND LIGHT AMETHYST BEADS. FANCY TEARDROP IS AVAILABLE IN AURORA BOREALIS CRYSTAL, CRYSTAL AND BLACK. THE ADDITIONAL BEADS ARE AVAILABLE IN AMBER, AMETHYST, BLUE, CRYSTAL, EMERALD, PINK AND RED.

PRICE $28.50 EACH

Fancy Splendor

---

RADIANT RED

IS A GRACEFUL PULL MEASURING 7 INCHES LONG. THIS PULLS BEGINS WITH A FACETED RED CRYSTAL SPEAR FOLLOWED BY AURORA BOREALIS FACETED CRYSTAL AND RED ROUND AND OVAL BEADS. AVAILABLE IN AMBER, AMETHYST, BLUE, CRYSTAL, EMERALD, PINK AND RED.

PRICE $28.50 EACH

Radiant Red

---

PINK DELIGHT

IS A STUNNING PULL MEASURING 5 & 3/4 INCHES LONG. THIS PULL BEGINS WITH A FACETED PINK CRYSTAL ROUND TEARDROP FOLLOWED BY AURORA BOREALIS FACETED CRYSTAL AND PINK ROUND AND OVAL BEADS. AVAILABLE IN AMBER, AMETHYST, AQUA BLUE, COBALT BLUE, CRYSTAL, EMERALD, AND PINK.

PRICE $28.50 EACH

Pink Delight

---

OPULANT OVAL

IS AN EXQUISITE PULL MEASURING 5 & 1/2 INCHES LONG. FIRST IS AN AURORA BOREALIS FACETED TEARDROP FOLLOWED BY AURORA BOREALIS FACETED CRYSTAL AND AMETHYST ROUND AND OVAL BEADS. THE LARGE TEARDROP IS AVAILABLE IN AURORA BOREALIS CRYSTAL, CRYSTAL AND BLACK. THE ADDITIONAL BEADS ARE AVAILABLE IN AMBER, AMETHYST, BLUE, CRYSTAL, EMERALD, PINK AND RED.

PRICE $28.50 EACH

Opulent Oval

---

BLUE BRILLIANCE

IS A HANDSOME PULL MEASURING 5 & 3/4 INCHES LONG. FIRST IS A BRILLIANT FACETED SWORD SHAPED CRYSTAL FOLLOWED BY AURORA BOREALIS BLUE AND AMBER FACETED ROUND AND OVAL SHAPED BEADS. AVAILABLE IN AMBER, AMETHYST, BLUE, CRYSTAL, AND PINK.

PRICE $28.50 EACH.

Blue Brilliance

---

AMBER ELEGANCE

IS A PULL WITH TRUE VINTAGE GRACE MEASURING 5 INCHES LONG. FIRST IS A FACETED AMBER DIAMOND SHAPED CRYSTAL FOLLOWED BY BLUE AND AMBER ROUND AND OVAL FACETED BEADS. AVAILABLE IN AMBER, AMETHYST, AQUA, BLACK, BLUE, EMERALD, PINK, AND RED.

PRICE $28.50 EACH

Amber Elegance

---

AMETHYST GLOW

IS AN ALLURING PULL MEASURING 6 INCHES LONG. FIRST IS A FACETED AMETHYST SPEAR SHAPED CRYSTAL FOLLOWED BY AURORA BOREALIS FACETED TWO-TONE AMETHYST/CRYSTAL BEADS, AN AMETHYST DOUBLE CONE AND A REPEAT OF THE AURORA BOREALIS FACETED TWO-TONE AMETHYST/CRYSTAL BEADS. AVAILABLE IN AMBER, AMETHYST, BLUE, CRYSTAL, EMERALD, PINK AND RED.

PRICE $28.50 EACH

Amethyst Glow
---
Top of Page
ALL OF MY LAMP PULLS HAVE A VINTAGE LOOK WHICH WILL ADD ELEGANCE TO ANY LAMP OR SHADE.
THEY ARE MADE WITH THE FINEST OF CRYSTALS AND ANTIQUED BRASS CAPS AND RINGS.
THESE CAN BE ADDED TO YOUR LAMP WITH EITHER LAMP CHAIN OR TWISTED METALLIC CORD. IN DAYS GONE BY, THESE WERE ATTACHED TO LAMP PULL CHAINS WITH THE TWISTED METALLIC CORD TO ADD LENGTH WHICH ENABLED THE LAMP TO BE TURNED ON WITHOUT REACHING UP INTO THE SHADE. NOT ONLY DO THEY MAKE IT EASIER TO TURN A LAMP ON, BUT ADD BEAUTY AND GRACE AS WELL.
THESE CAN ALSO BE USED FOR CEILING FANS!!
PICTURES ARE NOT ACTUAL SIZE
IN customers pay 7% sales tax.
Custom orders are always welcome!